This summer saw another fun filled occupation at Hays House. Residents from local care homes visited the LifewithArt Charity Arts Centre to enjoy another round of workshops. Clients from Queens Court Care Home were delighted with the wool bowls they made embellished with buttons, sequins, glitter and feathers. The group also tried their hand at decorating some keep sake boxes to store all those special memories whilst residents from Alexander House Care Home made some pretty craft photo frames.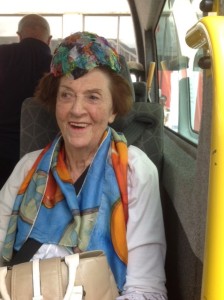 A Queen's Court client strikes a pose in her new 'bowl-hat'
Music tutor Robbie Knight kicked off the music workshops with discussions on songs both he and the clients knew – breaking the ice singing some old classics. The group also discussed where they were from and enjoyed a rousing rendition of 'Maybe it's because I'm a Londoner'. In addition there was some group music making- shaking the shakers and passing around the stringed instruments which everyone strummed in their own way. Robbie said "Great sessions! I even added a new song to my repertoire 'Ten Ton Tessie' which I'll definitely be using in future music sessions with my older clientele."
The photographic exhibitions in the building were open for public viewing several times a week giving local residents ample opportunity to see the amazing artwork on display. Local myasthenia gravis sufferers, their family and carers attended a support session at the building in July offering them the opportunity to see the wonderful Myaware exhibition whilst gaining any advice and support they might need.